What We're Doing to Keep You Safe
At Boone Hall Fright Nights, your health and safety are our top priorities. For over 15 years, our creatures have entertained thousands of thrill seekers in our world-class haunted attractions. In 2020, our cast and crew remain committed to presenting an incredible entertainment experience in a safe, outdoor experience on our Farm. In order to do so, we've developed an extensive COVID-19 Response protocol, Committed-Clean-Compliant, which will be implemented across this year's event. This protocol includes: limited capacity, disinfection and cleaning programs, the use of face coverings by our actors, staff, and guests, queue line social distancing, enhanced safety initiatives and guest conduct policies, and strict compliance with all current local and state regulatory authority recommendations.
Why Outdoor Attractions are Different from Other Mass Gatherings
It's important to acknowledge the difference between outdoor attractions and other venues for mass gatherings such as sports arenas, movie theaters, and concerts:
 Capacity can be reduced/managed at attraction facilities to support appropriate physical distancing in line with guidance provided by applicable health authorities.
 A significant percentage of attraction attendance is made up of family members who live in the same home or other parties who travel together and thus do not need to be physically distanced from each other while visiting an attraction.
 Exposure time is limited. Guests generally move throughout their experience, and are not sitting in a single location, elbow-to-elbow, for an extended period.
Boone Hall Fright Nights is presented in an outdoor environment on our farm which spans several hundred acres. Ample space in our parking lots, queue lines, and common spaces provide plenty of room for guests to enjoy a safe, fun evening of fright.
We're Limiting Attendance for Everyone's Safety
In 2020, our production management team has set capacity guidelines for all of our attractions, queue lines, midway, and parking lots. In accordance with the recommendations set forth by applicable regulatory authorities, Boone Hall Fright Nights will digitally monitor the number of guests present at our event at all times.
Nightly ticket sales will be limited to ensure our attractions can accommodate our visitors safely and provide an exceptional entertainment experience.
We HIGHLY recommend purchasing online tickets in advance as this event WILL SELL OUT on a nightly basis. Visit ⦁ www.BooneHallFrightNights.com/Tickets to visit our interactive online ticketing calendar and purchase your Advance Online Tickets for one of our 19 Nights of Fear.
Queue lines will feature wider lanes and social distancing markers to separate groups not traveling together. Queue lines may temporarily be closed when they reach capacity and will reopen once additional capacity is available.
On-site ticket sales will be limited and will be subject to availability on any given night.
In the unlikely event any guest is unable to complete all 3 attractions during their visit, their tickets will be honored any remaining night during the 2020 season.
Our Enhanced Safety Procedures
We're going above and beyond in 2020 to ensure a safe event experience for everyone in attendance. Guests may notice enhanced safety measures taking place in our parking lots, at our security screening checkpoint, and throughout our event grounds.
CLEAR BAG POLICY IN EFFECT

– for the safety and comfort of everyone in attendance, as well as to limit physical contact with guests personal belongings, Boone Hall Fright Nights is implementing a Clear Bag Policy consistent with other stadiums, sporting arenas, and festival events. Guests wishing to bring personal articles into our event must ensure their bag or clutch meets the requirements for admission as detailed in our Clear Bag Policy Graphic.
Guests' bags which do not conform to these requirements will not be allowed past our security checkpoint.
METAL DETECTION DEVICES IN USE– our security team will conduct mandatory "wanding" of all guests entering our event grounds. Guests are reminded that weapons of any kind, including pocketknives, and concealed firearms are NOT permitted at this event (even with a CWP).
Temperature Screening of Guests may be conducted at the recommendation of local regulatory authorities.
These policies will be enforced by our security team and the Charleston County Sheriff's Office.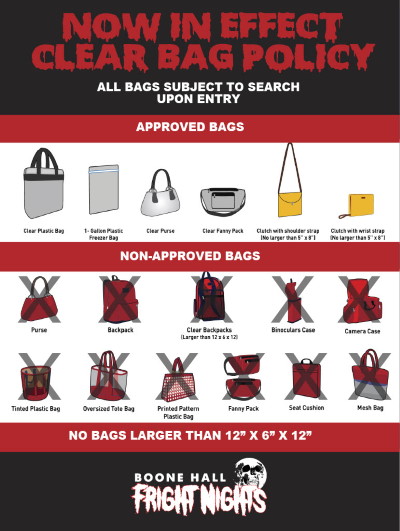 Click To Enlarge
We're Staying Healthy to Perform for You
All actors and staff will undergo nightly temperature checks.
Our actors and staff have completed training on best practices for personal hygiene, hand washing, and recognizing the symptoms of Covid-19.
Our powerful digital casting system allows our experienced actor coordination team to provide enhanced contact-tracing and ensure all of our actors remain healthy throughout the season.
Our actors and staff will not work or perform if there is any indication that they may be sick.
We're Keeping it Clean
Our production team has developed a constant cleaning protocol featuring hospital-grade cleaning and disinfectant products provided by industry-leader EcoLab.
Our entire Scream Team staff has been trained on the proper application of our Peroxide Disinfectant which kills 99.999% of germs in seconds.
Our staff will clean and disinfect frequently touched surfaces, props, and public areas of our attractions and event grounds on both a scheduled and random basis.
Our portable restroom facilities will be serviced every day prior to opening and will all include alcohol-based sanitizer inside of each unit for guest use.
Our staff will conduct a fogger-based deep clean and disinfection of all attractions at least twice each night and prior to opening each evening.
Our makeup team includes Barbicide™ Certified estheticians who will be applying only alcohol-based touchless airbrush makeup on our actors to ensure our back-of-house facilities are just as clean as our guest areas.
We're Washing and Sanitizing our Hands and We Hope You Do Too!
⦁ Over 40 sanitizer dispensers have been placed throughout our event grounds including inside of every portable restroom facility, as well as touchless dispensers at our security checkpoint, on our midway, at the entrance to every attraction queue line, at every attraction's entry door, and throughout our staff areas.
⦁ Hand wash stations with antibacterial soap and fresh water are located throughout the event grounds including at our security checkpoint, on our midway near food vendors, at our hayride bridge, in our backstage cast areas, and at our portable restroom facilities.
We're Asking Everyone to Mask-Up
Our actors have some pretty awesome face masks for the 2020 Boone Hall Fright Nights season and we want to see your cool face coverings as well. (No Costume Masks)
All actors and staff will be wearing face coverings (including masks and/or shields) at all times.
We respectfully ask that our guests wear a face covering at all times while on our event grounds. Guests may remove face coverings to enjoy food or drink on our midway but must be wearing a face covering at all times while walking, in our queue lines, and while inside our attractions.
Our staff will be wearing appropriate Personal Protection Equipment, including gloves (which will be changed frequently) for all positions handling money or tickets.
We're Giving You Some Space to Social Distance
We're reconfiguring our lines and public spaces to promote Social Distancing wherever possible.
Our queue line lanes have been widened to accommodate groups called "social bubbles", which are traveling together. Markers throughout our queue lines will identify spaces for each bubble.
Our attractions have been designed with automated auditory and visual timing devices to space groups out and assist our staff with controlling capacity for a safe experience.
We're spreading groups out on our Scary Tales Haunted Hayride and leaving empty bales of hay between groups not traveling together.
We're opening up our midway with less seating and more room for guests to visit our vendors, purchase souvenirs, and enjoy our stage entertainment.
We kindly ask that guests respect others' space and remain a safe distance from other groups while in our public spaces and while experiencing our attractions.
Our commitment to providing a safe and responsible event experience is as strong as ever. We appreciate our loyal fright fanatics who have made Boone Hall Fright Nights a Lowcountry tradition, and look forward to welcoming everyone to an entertaining night of fear on the farm.